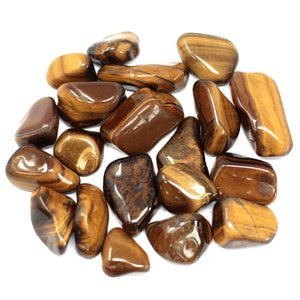 Tigers Eye - Golden
Known as a stone of protection, especially for travellers, Tiger Eye brings good luck and prosperity to the user. Ancients used Tiger Eye as a talisman against bad luck and curses. 
Healers believe tiger's eye helps tummies, digestion (ideas), disorders, wind, emotional nausea. Balance, bloody-mindedness, courage, inhibitions, introversion, fear, eyes, grounding, negativity, narrow-mindedness, said to be good for nocturnal vision, sharpens the mind, absent distant remote healing (especially through meditation), investigations (police, scientist, insurers, accountants, etc), intuition and gut feeling, depression, a Feel Better Stone, helps you get up and go for it.
Use Tiger Eye with the Sacral Chakra to bring spiritual grounding.